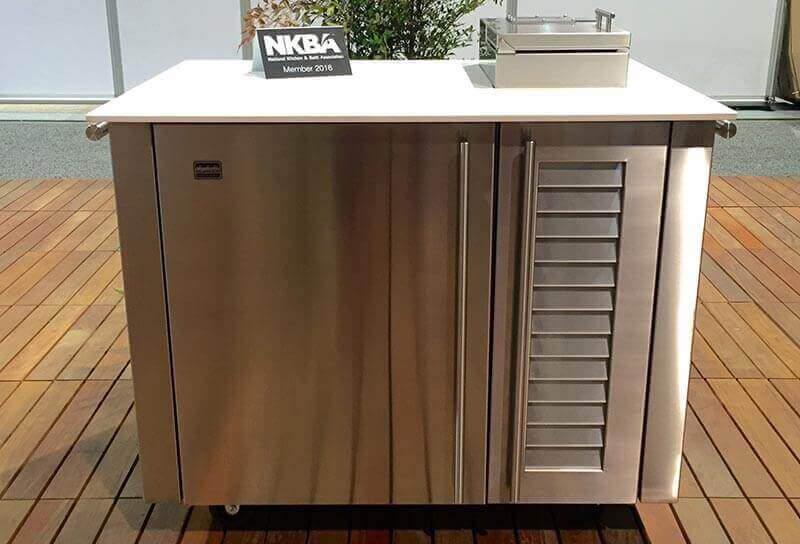 January 28, 2016
Consumer Reports
We recently previewed our newest product, the Smoker Cabinet, at the Kitchen and Bath Industry Show in Las Vegas.
Available in a freestanding and built-in model, the Kalamazoo Smoker Cabinet is an innovative new approach to traditional American barbecue at home. Top barbecue circuit competitors swear by gravity-feed charcoal smokers. We have incorporated that same technology into a stainless-steel cabinet that fits seamlessly into any Kalamazoo outdoor kitchen. The gravity-feed charcoal technology, and insulated and sealed design, creates efficient temperature control and constant, even heat. The cabinet matches the sleek lines of our collection while offering the primal experience and incredible flavors that can only be achieved by a live fire.
More than 110,000 builders, designers and manufacturers attended KBIS, unveiling their latest innovative home products and technologies. Consumer Reports sent their team to size up the industries newest offerings. We're pleased to note that the Kalamazoo Smoker Cabinet was picked as one of Consumer Reports' top five key home trends this year. Below is an excerpt from their article "5 Top Home Remodeling Trends for 2016".
---
Restaurant Features Find Their Way Home
"Backyard smokers are nothing new, but the Smoker Cabinet unveiled by Kalamazoo takes the experience to a new level, with a gravity-feed charcoal design that many pit bosses swear by. Thanks to its sealed system and heavily insulated box, Kalamazoo claims the dedicated smoker can maintain an ideal 225° F smoking temperature for more than 10 hours on a single load of charcoal. The undercounter unit, which will cost between $10,000 and $12,000, measures 36 inches wide by 30 inches deep, making it compatible with most outdoor cabinetry systems. And its three large shelves should hold enough smoked meat for even the biggest backyard barbecues."
Read the full article at ConsumerReports.com
To find out about the new Kalamazoo Smoker Cabinet read this article by the Patio & Hearth Products Report and this slideshow from CNET.