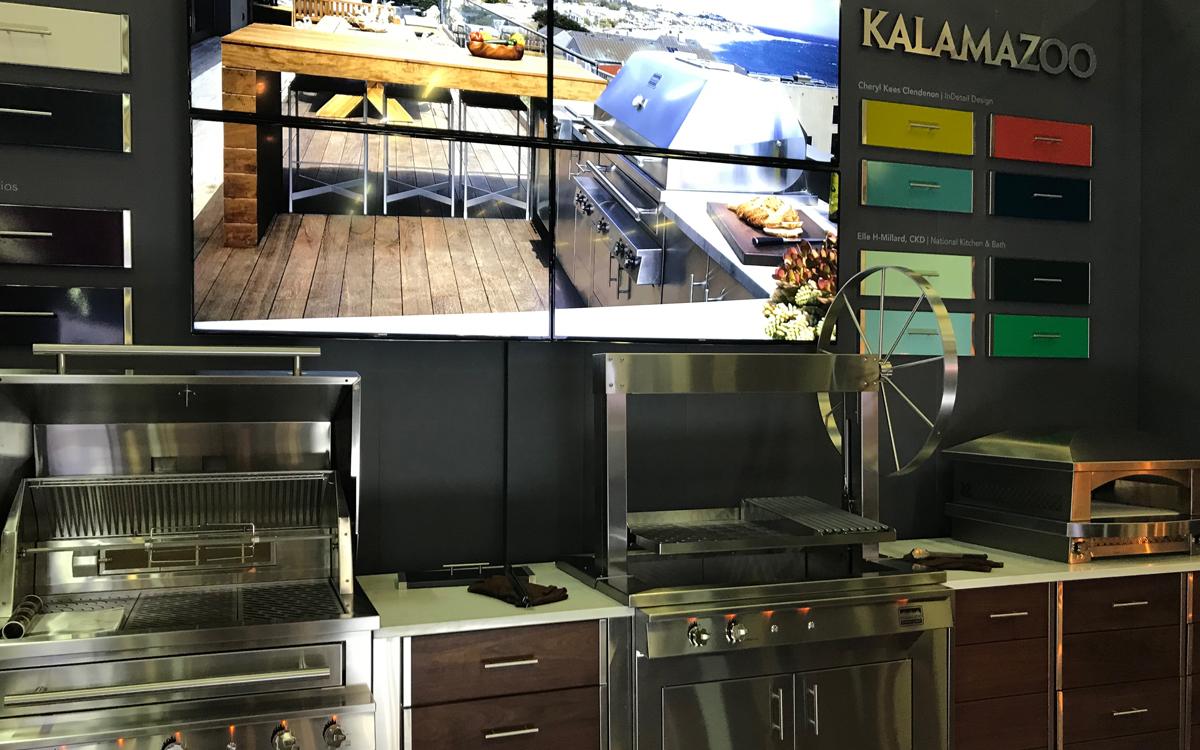 Kalamazoo collaborated with kitchen designers and NBKA Insiders to create four curated color palettes for the Arcadia Series of outdoor kitchen cabinetry. NBKA reports that "each designer was tasked to create a four-color palette that reflects their current design aesthetic," choosing from the more than 250 RAL color options that are available for the Arcadia Series. The designers' creativity led to the creation of palettes inspired by Moroccan spice markets and bazaars, "casual and whimsical" Southern-style outdoor entertaining, and two different takes on palettes inspired by nature.
The Arcadia Series color palettes were unveiled at the Kitchen and Bath Industry Show (KBIS) in March 2019, where bold color proved to be a hot trend in appliances, cabinetry, and other kitchen and bath elements from a wide range of manufacturers. The designers and Kalamazoo hope their curated palettes will show homeowners how color can connect their outdoor spaces to their home's interior and bring a personal, vibrant element to their outdoor living spaces.
---
Kalamazoo Outdoor Gourmet, a leading manufacturer of luxury outdoor kitchen appliances and cabinetry and NKBA brand member, is partnering with the NKBA Insiders to help bring color into the outdoor kitchen. Beth Dotolo and Carolina Gentry, Pulp Design Studio; Rebekah Zaveloff, CKD, KitchenLab Design, and Elle H-Millard, CKD, NKBA, along with NKBA designer member Cheryl Kees Clendenon of In Detail Design, have each curated color palettes for the brand's Arcadia Cabinet Series. The series can be customized more than 250+ RAL color options, oiled Ipe wood or charcoal gray powder-coated stainless steel.
"Incorporating color into the cabinetry is a great way to create a natural extension of a home's interior and intertwine the two spaces," said Alexis Hiller, head of marketing for Kalamazoo. "We hope these palettes will help to inspire homeowners and encourage them to embrace color just like our design partners."
Each designer was tasked to create a four-color palette that reflects their current design aesthetic.
Beth Dotolo and Carolina Gentry
The founders of Pulp Design Studios in Dallas and Seattle and current NKBA Insiders, Dotolo and Gentry transferred their love of travel to exotic destinations, specifically Morocco, into a "Colors of Kismet" palette. The fern green, violet, brown and black color scheme is inspired by the romance of Morocco's spice markets, sun-bleached buildings and eclectic bazaars. This palette adds a touch of drama to any outdoor space.
Rebekah Zaveloff, CKD
Based in Chicago, Zaveloff, co-founder of KitchenLab Designand a 2019 NKBA Insider, turned to nature for her inspiration. Rebekah loves the subtlety of oyster white, gray white, pebble gray and beige red because these colors form a neutral background, allowing the landscape around it to pop. The shades of gray have both blue and green undertones, allowing them to pair easily with stainless steel accents and natural material countertops.
Elle H-Millard, CKD
NKBA Insider Elle H-Millard was also inspired by the greens found in nature for her palette. Pastel green, black green, light green and traffic green are colors she associates with relaxing in a natural setting. When paired together, these colors can be both energetic and calming. They remind her of watching the sun glide across the sky, palm leaves blowing in the wind and dancing firelight. This outdoor oasis is like a perfect vacation, she says, free of stress and shared with good food, family and friends.
NKBA member Cheryl Kees Clendenon, principal of In Detail Interiorsin Pensacola, Fla., also contributed a palette. Hers is inspired by a new "sassy Southern" generation. With a blend of ocean blue, turquoise, coral and curry, it's a design style that embraces the unexpected —in life as well as color. The palette is both casual and whimsical and brings a sense of joy to outdoor entertainers who embrace back-porch parties, garden chats and celebrations with family and friends.
The new palettes were introduced at the Kitchen & Bath Industry Show (KBIS) in Las Vegas, Feb. 19-21, 2019, in the Kalamazoo Outdoor Gourmet booth and will also be featured at the Architectural Digest Design Show in New York in April 2019.
KBIS Introduction
At KBIS, Kalamazoo unveiled its first completely new grill design in five years, the Shokunin Kamado grill.
"Kamado-style grills date back 3,000 years. The word kamado means stove, but it wasn't until after World War II that this style of grill was introduced to the U.S.," said Russ Faulk, chief designer and head of product for Kalamazoo Outdoor Gourmet. "The Shokunin is the next evolution of kamado grills and redefines the industry standards for this style of outdoor cooking. We took the best design principles of a traditional kamado grill and broadened its capabilities to create better even heat distribution, expand the available cooking surface and increase the number of cooking levels to maximize the grilling experience."
The unit — weighing in at a sturdy 200+ pounds — features an 18 x 24-inch rectangular grilling area; a multitiered fire grate for different cooking applications, from low-and-slow to searing; 304-grade stainless steel exterior construction; two inches of insulation built into the design for superior heat retention; an Ipe wood frame and handle accents, and available accessories. The Shokunin Kamado is hand-welded and assembled in the company's Kalamazoo, Mich., factory.
It will be available starting this summer at Kalamazoo dealer showrooms or at KalamazooGourmet.com.