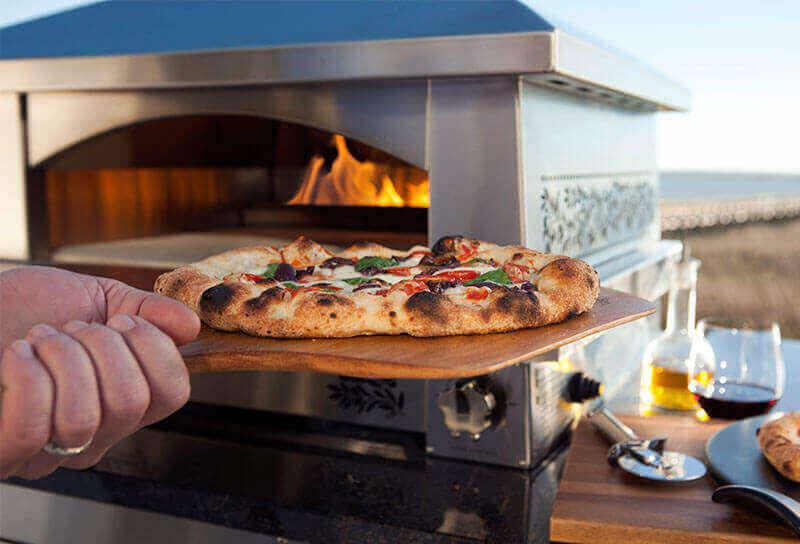 April 22, 2011
FoodRepublic.com
A few years ago, my dear old Dad kept calling me and bragging about how he was making awesome pizzas on his outdoor grill. Then, a brochure showed up in my snail mail one day from Kalamazoo Outdoor Gourmet, touting its new line of super-fancy outdoor pizza ovens. I was like, what is this, some sort of outdoor pizza-cooking conspiracy?
I don't have the $6,495 needed to secure Kalamazoo's Artisan Fire Pizza Oven (but if you do, I've seen this thing in person, and you should probably get one; check out the video on YouTube). So I called Kalamazoo Outdoor Gourmet's VP of Product Development Russ Faulk and asked him how a guy like me with a mere barbecue should go about grilling a pizza outdoors. I'm gonna try these tips soon, and hopefully make a call to my Dad to do some bragging of my own.
Methods for Cooking a Pizza Outdoors (courtesy of Kalamazoo Outdoor Gourmet):
DIRECT. Get a 500-degree (Fahrenheit) fire going. Form out the dough. Put it over the fire, directly on the grill. Leave it over the fire for 30 seconds to one minute. Flip over the dough and place cheese and toppings on the dough (though in this method, toppings should be sparse). Close grill top and let the cheese melt, about five minutes, and rotate if necessary.
INDIRECT. Fire up one side of the grill only, and place a pizza stone on the other side. Allow the stone to heat up for one hour. When the indirect zone is at 500 degrees, place a moderately thin-crust pizza on the stone for about 10 minutes with grill top closed, rotating the pizza once or twice as needed.
Article courtesy of FoodRepublic.com