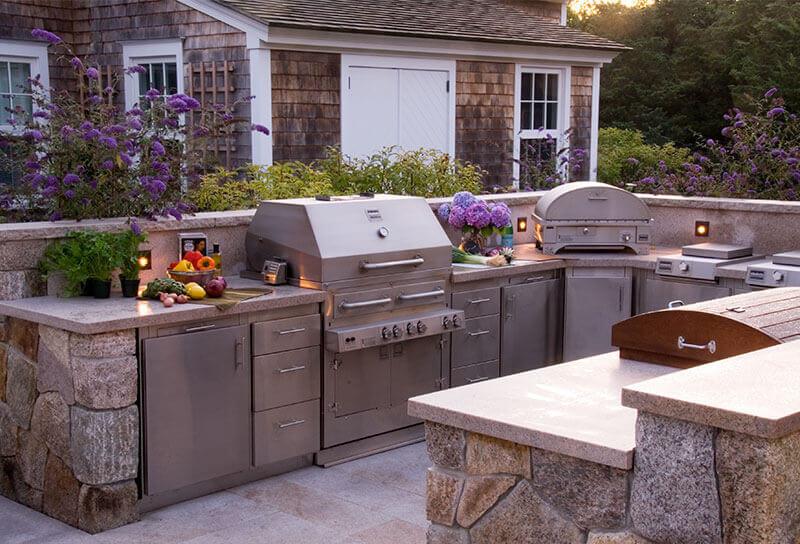 September 01, 2011
House Beautiful magazine
The Ultimate Outdoor Kitchen
Who needs an indoor kitchen if you've got this!
KRIS HORIUCHI: It's definitely the most ambitious one I've ever seen. Usually an outdoor kitchen is more of an adjunct, but this is complete. The client wanted the whole shebang — grill, cooktops, refrigerator, sink, pizza oven.
Is this for a major cook?
No, he just enjoys standing outside with the fire roaring — kind of that caveman thing — and making everything from burgers to fish tacos for his family and friends.
You're a landscape architect. Did you have to take a crash course in kitchen design?
I've done half a dozen outdoor kitchens — it was not uncharted territory. And I grew up in Los Angeles, so that whole indoor-outdoor living thing is embedded in my psyche.
Please orient me. Where exactly is this on the property?
It's on the terrace, in a transition area between the main house, the pool house, and the guesthouse just beyond it.
Why choose a U-shaped layout?
The buildings were built and they weren't going to move. The U worked with the geometry of the space we had, and the rest is just common sense. You don't want to put a grill on the end — you want it in the middle so you have prep space on either side. You want the sink and the fridge and the ice maker to be handy for people sitting at the bar, and you want the bar area on the social side, near the pool. What really makes this kitchen is the social component. People sit, having drinks, and the person doing the cooking is not relegated to Siberia. He's directly engaged in what's going on.
Did you think of the grill as the focal point?
Not really. I've worked on outdoor kitchens where there' a huge pizza oven or a fireplace. Honestly, my preference is that there not be a focal point. To me, it's more about the overall space and the effortless flow of outdoor living.
Why did you pick this grill?
The owner chose the products himself, actually. He wanted it because it can cook with wood or charcoal in addition to gas. Everything is made by Kalamazoo Outdoor Gourmet, and they even drew up the plans. They think about a kitchen in its entirety and offer a ton of options, so there's no need to do anything custom. Other companies just don't have the same level of accessories. It makes your mind spin.
Give me an example.
A narrow drawer you can store your cutting board in. Angled cabinets, so you can take advantage of corner conditions without having to do a funky lazy Susan kind of thing.
How did you make these appliances look as if they belong on this terrace?
The whole thing is wrapped in fieldstone — just like the hot tub. We tried to stitch and weave a few landscape components into the composition, so the first thing you see is not necessarily stainless steel. And then we went with a light-colored granite for the countertops and pavers.
Will grease stain it?
Well, you don't want to let stuff sit there, but they're sealed, so that helps. And we installed a hose connector under the sink, so you can wash it all down.
Why bother with a drain outdoors?
If we'd sloped the pavers down from the cooktops in back, it would have created an awkward condition with the toekicks, since all the cabinetry would be on an incline. Instead, we kept the grading level around the perimeter and pitched a low spot in the middle.
What do people always forget?
Lighting. It's a challenge. We do have task lighting built into the backsplash. See those little squares? But light attracts bugs. Luckily, it doesn't get really dark till late, when you're done cooking.