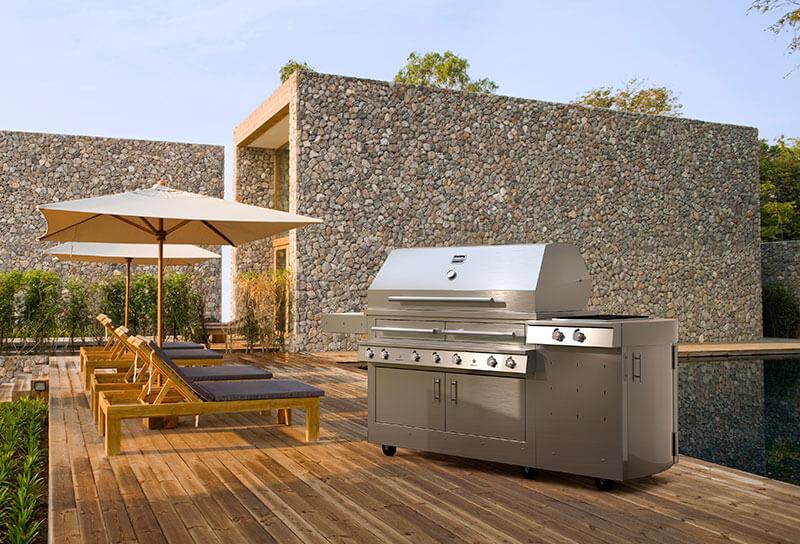 Purchasing a new grill is a big responsibility. Not only do prospective owners need to consider style and size, but they also have to decide between gas, wood, or charcoal. These things matter, as each option provides its own set of benefits. But just because owners are faced with the choice doesn't mean they have to decide. One company provides options for all three.
Debuting today at the Kitchen and Bath Industry Show in Las Vegas, Kalamazoo Outdoor Gourmet has unveiled its new 2011 line of Hybrid Fire Grills. Using a drawer system located above the gas burners and below the cooking surface, the grills allow solid fuel to be used while still letting owners enjoy the convenience of gas. The grills can be used with any combination of the three; leave the drawer empty for gas, or fill it with wood and/or charcoal for a unique grilling experience.
With the ability to combine the convenience of gas, the flavor provided by wood, and the accessibility of charcoal, the grills offer users the freedom to grill how they want to grill. New options and features for 2011 include popular favorites like an integrated rotisserie and ambient lighting along with a performance upgrade in the redesigned gas burners, which allow for the entire grill surface to be used as a sear zone. Achieving temperatures up to 800 degrees when used as a gas grill and even more when fueled with wood or charcoal, the grill provides owners with the power they desire, without having to make any compromises.
The Hybrid Fire Grill comes in four different sizes and 12 models, in either built-in or free-standing options. The grills will be available this summer.