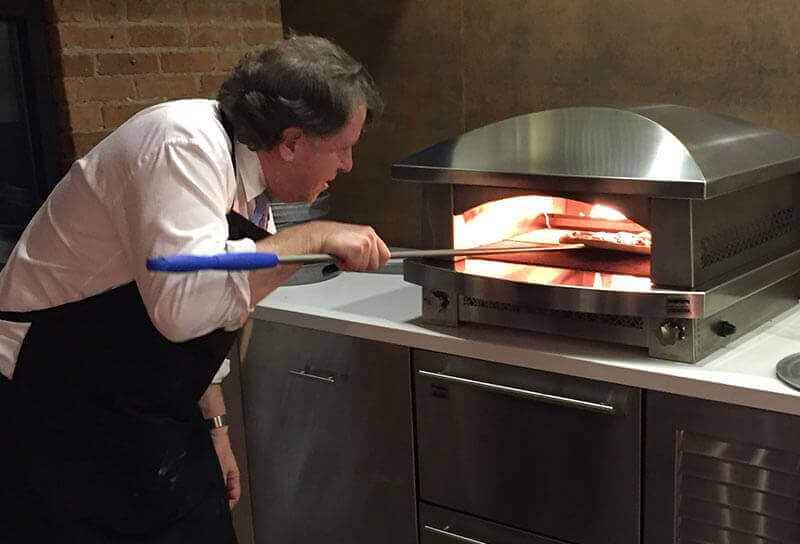 Earlier this year, we had the pleasure of cooking with Forbes food writer and creator of the Rosengarten Report, David Rosengarten.
He visited our Chicago culinary center and we cooked with several Kalamazoo products, including our Artisan Fire Pizza Oven. Not surprisingly – it left a lasting impression on him. As he puts it, "I fell in immediate love." David recently recounts his first experience with Kalamazoo in Forbes.
As we approach outdoor cooking season, we're seeing more sentiments like these about our Artisan Fire Pizza Oven – which is now available in a new freestanding model. Many homeowners are looking to add it alongside their grill for more cooking flexibility and versatility. Modern Luxury Interiors recently featured it, saying it'll "transport your backyard dinner party to Napoli."
---
Adding a Pizza Oven to Your Backyard Grill Party
It's almost May. After enduring the winter-long coop-up in their kitchens, for millions of Americans at this time of year begin imagining something that isn't quite there yet: the bewitching aroma of wood doing a controlled burn underneath a wire rack. It will soon to be topped by luscious steaks, just-held-together buttery hamburgers, spicy Italian sausages, rib lamb chops with striations of meat-fat-meat-fat, and, of course, chickens in all their grilled glory (whether the concept is plain old Southern with BBQ sauce flare-ups, or the meticulously marinated gai yang from Thailand, in all its lemongrass-inflected glory). Grilling is a kind of religion in America; some families come to "church" every night from May to September to participate in its rituals.
Nothing new here: this has been going on for decades in America…the essential element of Man Meets Fire never changing. But the backyard chef himself (or herself) has changed a lot. We are now a nation of foodies…and foodies want new toys, new ways to cook old things, not to mention new things to cook.
Rising out of the zeitgeist is a dream company from the Midwest, Kalamazoo Outdoor Gourmet. And what they're up to may just put you on a collision course this summer with the best pizza you've ever made at home (a pizza which actually tops a lot of pizzeria pizza, too!).