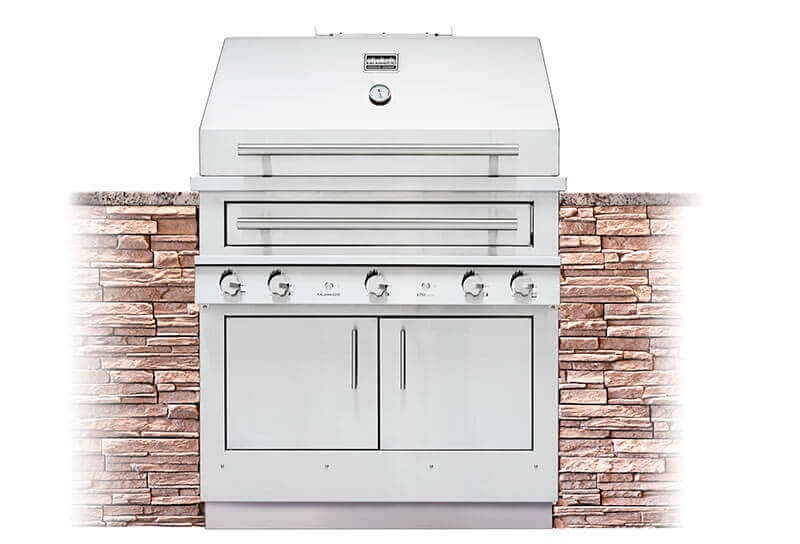 August 26, 2015
AmazingRibs.com
AmazingRibs.com are experts in the science of BBQ and grilling, so when they say your grill is one of the best, it's a strong statement. The Kalamazoo Outdoor Gourmet K750HB Hybrid Fire Grill was named one of the top 10 luxury grills and smokers of 2015. AmazingRibs.com pointed to the Hybrid's impeccable fit and finish, and 25,000 BTU cast brass burners as two of its greatest features. But what really makes the Kalamazoo grill stand out is its unique Hybrid Fire Grilling Drawer that makes cooking with wood, charcoal and gas possible.
---
2015 Top 10 Luxury Grills And Smokers
"Kalamazoo occupies a rarefied space in the BBQ cosmos. Part Rolls Royce, part tank, with fire power and versatility to spare, Kalamazoo grills are imposing in appearance, performance and price. In addition to being handmade with impeccable fit and finish, and over-built from head to toe with high quality 304 stainless steel, Kalamazoo is known for superb features like their 25,000 BTU cast brass burners, waterproof cabinets and internal chain-driven rotisseries. But as award winning Chef Rick Bayless observes, the feature that really puts Kalamazoo over the top is their Hybrid Fire Grilling Drawer: A bed of slotted heat tents that slides between the main burners and grates."
Read the full AmazingRibs.com article here.