By Max Good
Kalamazoo Outdoor Gourmet is at it again. Just when we thought we'd seen everything in the world of kamados, Kalamazoo unveils their striking Shokunin Kamado Grill. Shokunin, Japanese for "master" or "artisan", is rectangular with an 18 inch x 24 inch primary cook surface and an extended height. We've long been fans of oval kamados like Primo and Komodo Kamado because the elongated, oval cook surface is more conducive than round kamados for 2-zone set-ups, with a hot direct zone on one side and moderate indirect zone on the other. Click here for our Buying Guide To Kamados.
Coupled with the extended, deep lower body which accommodates placement of the charcoal fire grates at three levels, the rectangular Shokunin promises enhanced multi-zone cooking. Shokunin is brand new. We will get our hands on them ASAP. Meanwhile, here's a summary of what we know so far.
Stainless not ceramic
Kalamazoo rejected the idea of creating a ceramic kamado for two reasons; they wanted Shokunin to blend seamlessly with their entire, stainless steel outdoor kitchen catalog, and design and fabrication of high quality stainless steel products is their forte. The lid and body are top grade 304 stainless steel and marine grade is available as well. Read about stainless steel here. Shokunin is double walled with two inch thick, glass fiber insulation sandwiched between welded stainless steel. Note how the cooking grates flip up for easy access to the fire.
Multi-zone design
This overhead view looks straight down Shokunin's throat. The left and right cooking grates are flipped up with the left charcoal grate down low and the right in middle position. Many kamados move the cooking grates toward or away from the fire to achieve different heat profiles. Shokunin charcoal grates move instead, leaving the cooking grates at the top where they are easily accessible. Place the charcoal grate in the low position for smoking, middle for roasting and high for searing. The middle setting is said to be roughly located in the same position as most kamado charcoal grates.
Here is the Shokunin charcoal grate set down low and slow for smoking. Kalamazoo touts the efficiency of Shokunin and claims it will hum away at around 225°F for 5 hours per one pound of charcoal. So eight pounds should keep it smokin' for 40 hours.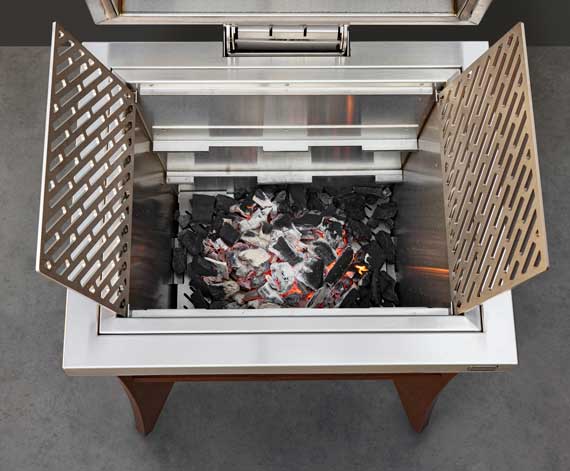 There are intake dampers on the bottom of each side with corresponding exhaust dampers directly above in the lid. The rectangular design with two sets of complimentary intake and exhaust dampers is reminiscent of Portable Kitchen Charcoal Grills, which we have tested and found excellent at multi-zone cooking.
Beautiful
Kalamazoo is known for excellence and superb fit and finish. You may have noticed Shokunin's beautiful wood work. It is Ipe wood, also known as Brazilian walnut. Ipe looks great and is extremely durable.
Check out those seamless welds, a Kalamazoo signature. Many marvel at Kalamazoo's high prices and wonder if their products are worth all that dough. Eat your hearts out folks. I can't afford them either, but for those who want the best of the best and don't blink at the price…..
We're eager to get up close and personal with Shokunin and learn more. Stay tuned!