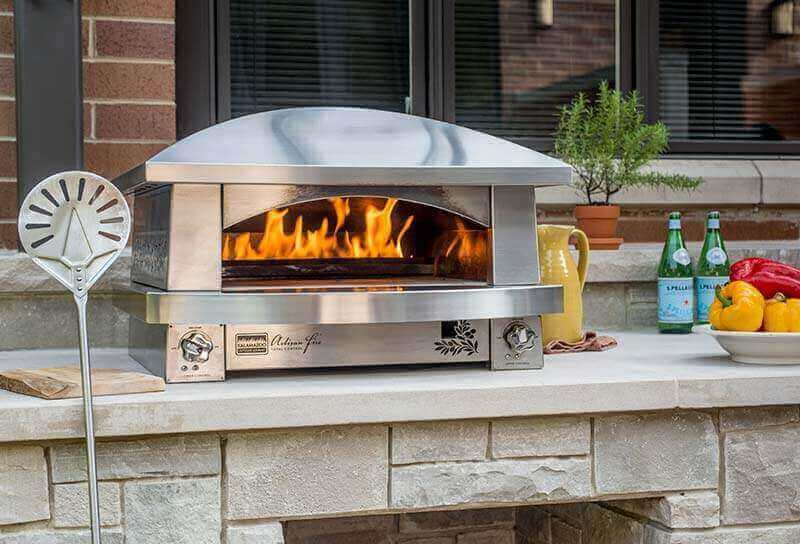 March 10, 2015
The Robb Report
The Robb Report recently reviewed Kalamazoo's Artisan Fire Pizza Oven in their "Robb Vices" section. Find out why they think that this gas-fired pizza oven is an excellent choice for your backyard.
---
An Oven as Easy as Pie
"Neapolitan pizza. It's the sexiest carb, and one that we could eat every day. To do so—and to make a traditional Naples pie the right way—requires a pizza oven. Pizza aficionados with a spare-no-cost approach will likely look to their favorite pizza joints for inspiration, which means they'll end up accenting their back patios with a wood-fired Italian oven made from stone and sand. Ovens like that typically weigh about 6,000 pounds, can cost as much as $20,000, and require between 2 and 3 hours to heat to the appropriate temperature. And while the prospect of a wood-fired oven is alluring, the thought of constantly sweeping up hot ash is not.
Fortunately, there's an alternative, and it comes from an unlikely destination: south central Michigan. The folks at Kalamazoo Outdoor Gourmet, a company known for its wood-fired, gas, and charcoal grills, have designed an outdoor pizza oven ($6,895) that weighs a scant 130 pounds and can reach full Neapolitan heat (about 800 degrees) in 45 minutes. At that infernal temperature, a pie will cook in less than 3 minutes. "The best thing is that it truly does mimic the heat of a wood-fired oven," says Russ Faulk, Kalamazoo's vice president of product development. "And it's much, much simpler to use. You don't have to master wood fire."