AC-CHARCOAL-35
Kalamazoo Quebracho Charcoal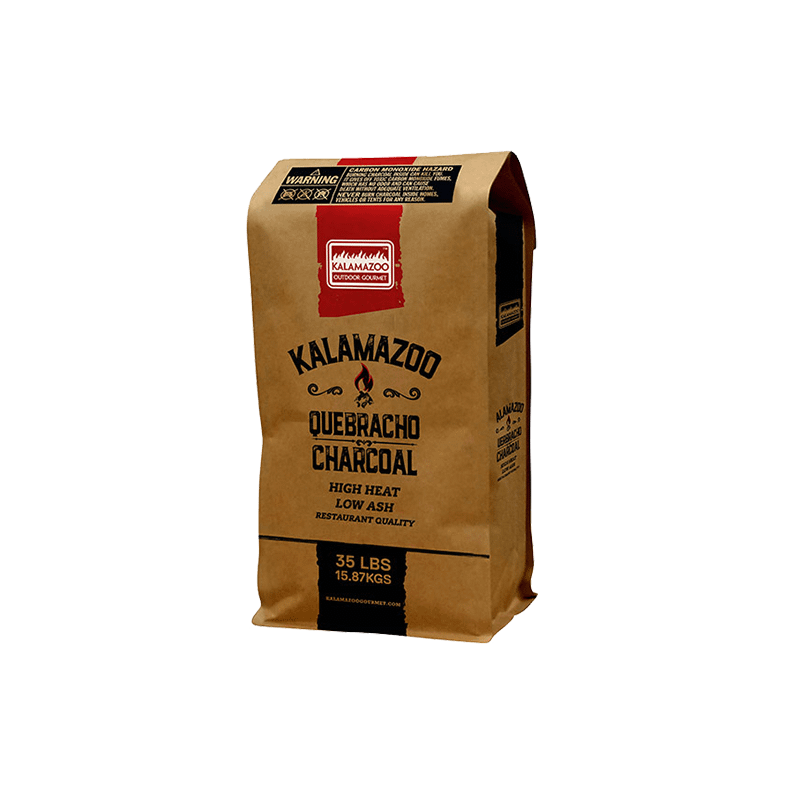 AC-CHARCOAL-35
Kalamazoo Quebracho Charcoal
$65 USD
Kalamazoo's Quebracho 100% natural lump charcoal burns hotter and longer than any other hardwood lump charcoal. 35 lb. bag.
---
Carefully selected and exhaustively tested by our grillmaster, Kalamazoo Quebracho Charcoal provides the most intense dry heat with an exceptionally long burn time, outlasting all other lump charcoals. It is low sparking, generating almost no smoke and very little ash. Harvested from sustainable sources in the Chaco region of South America entirely by hand, the wood is handpicked, hand-cut, and then hand-fired in brick kilns. Quebracho Blanco wood, also known as "axe-breaker" wood due to its extreme density, is 40% harder than other lump charcoal woods and gives double the typical heat and burn time of a briquette. Enjoy hours of clean, low smoke cooking with each load of Kalamazoo Quebracho Charcoal.
Product Features
---
Premium all natural hardwood lump charcoal made from 100% Quebracho Blanco wood
Provides intense searing heat with a long burn time, generating very little ash
Burns hotter and longer than other hardwood lump charcoals
Packs over 7000 cal/g of cooking power, which is twice the power of a standard briquette
4% ash, 2% moisture, and 1.3 tons/m3 density
Sustainably harvested in South America
Hand-picked, hand-cut, and hand-fired
35lb bag
Please note: charcoal only ships to clients within the United States
We're here. We're available.
Questions arise. Let us know what you're thinking. Also, we can help make your outdoor kitchen vision—whatever it is—into an actionable plan.
Contact Us
Design Support