Recipes
Grilled Corn with Spicy Tomato Butter
In order to mix something moist, like a tomato, with butter (which is at least 80 percent fat), most of the juice has to be removed. You could squeeze it, but then you'd lose a lot of its flavor. You could cook it until it's dry, but that would take time and fairly constant attention. Or you could use a tablespoon of tomato paste, which is nothing more than ripe tomatoes simmered until most of the moisture is gone. The more a tomato cooks, the less it resembles fresh, and the more concentrated its flavor will be. Mixing a tomato concentrate with butter gives it dairy sweetness and a velvety texture that is delicious slathered over the charred kernels of an ear of grilled corn.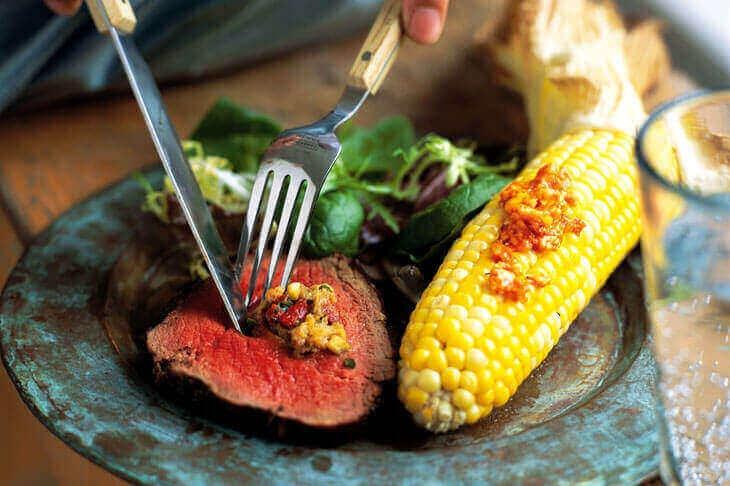 ---
Ingredients
Oil for coating grill grate
6 ears unhusked corn
4 tablespoons (1/2 stick) butter, softened
1 tablespoon corn or canola oil
1 1/2 tablespoons tomato paste
1/8 teaspoon Chinese chili paste
1/4 teaspoon garlic salt
Directions
Prepare and preheat the grill for direct cooking at 400° to 450°F. If using charcoal and/or wood, preheat to a light ash.
Brush the grill grate and coat it with oil. Put the corn on the grill, cover, and cook until the husks are charred and you can hear the juices from the corn sputtering inside, 12 to 15 minutes, turning every 3 or 4 minutes.
Meanwhile, mix the butter, oil, tomato paste, chili paste, and garlic salt in a small bowl.
Let the corn cool for a few minutes. Grasp each ear with a dish towel and peel off the husk. Serve the ears slathered with tomato butter.
Note: Tomato paste is made by cooking tomato purée until almost all of its liquid evaporates. It is too intense and too thick to be eaten alone; rather, it is best thought of as a flavoring agent. For grilling, its main role is as a component in barbecue glazes and sauces, but it can also infuse the flavor of tomato into a rub or a composed butter without the need to worry about adding extra moisture. The best-quality tomato paste is packaged in tubes and double concentrated. Usually imported, these double tomato pastes are sweet, aromatic, and intensely flavored. Best of all, the tube keeps air away from any leftover paste, allowing it to stay fresh for months in a refrigerator. No more throwing out half-used cans of tomato paste.